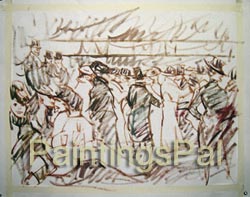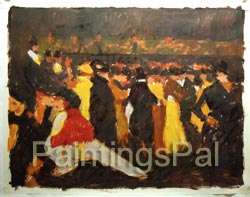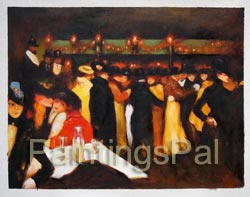 Painting process of Le Moulin de la Galette by Pablo Picasso
A painting demonstration in oil on a 24" x 30" linen canvas
---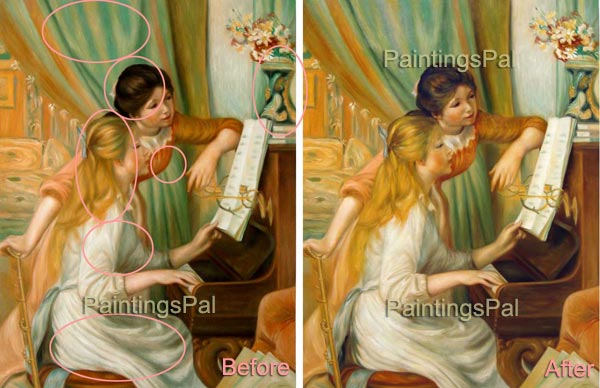 Artist is creating more depth and tones at this stage

Reproduction of Renoir's Two Girls at the Piano, 1892. A
painting demonstration in oil on a 18" x 24 " linen canvas
---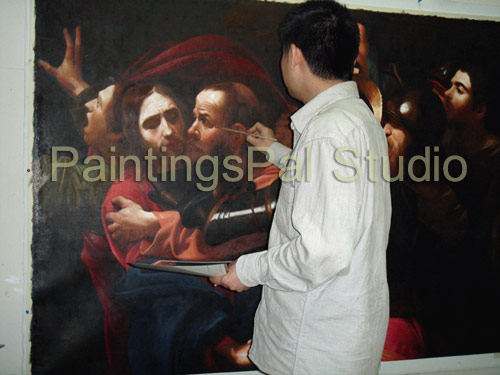 Painting process of The Taking of Chris by Caravaggio (final retouching)
A painting demonstration in oil on a 48 " x 66 " linen canvas
---
Painting process of a pet portrait
A painting demonstration in oil on a 30 " x 40 " linen canvas

---
How close are our hand painted reproductions to the original?

Please don't let anyone talk you into expecting 100% similarity. It isn't humanly possible.
Slight detail loss and minimal color variance is a possibility when recreating art works, however
every feasible step is taken to insure the integrity and accuracy of the final image to its original.
As you browse other sites that offer oil painting reproductions, don't be fooled into thinking that
because their prices are two to five times ours that their quality is better.
You can also check out the below sections to judge our quality for yourself

Samples
Oil Paintings in Stock
Custom Oil Portrait
Art solutions
to corporations, interior designers, academic institutions, hotels and retail outlets
What Our Customers Say
Search the web for oil painting samples and price by the possible suppliers
We ship your painting rolled at actual shipping cost. For more information, Click Here (on Help Page)

For frequently asked questions, please read Help Page


. E-mail:
service@paintingspal.com
,
paintingspal@163.com
Address: A103, Block 15, Woodland Height, Buji, Shenzhen, China. Postal Code: 518112
Copyright © 2005-2009 PaintingsPal.com. All Rights Reserved
Images Marked PaintingsPal Name Are Digital Pictures of PaintingsPal's Real Reproductions or Original Creations